Member Church Announcements
---
News & Announcements from Member Churches
Visitor Comments (0)
Be the first to post a comment.
Discuss On Facebook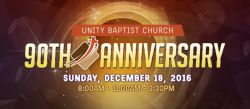 Unity Baptist Church invites you to come celebrate with us as we reflect and celebrate 90 years of service in touching lives with the Gospel, lifting the name of JESUS, and creating partners within the ministry in teaching, mentoring, and cultivating a body of believers. It's through our continual efforts by the preached WORD we grip the knowledge of Christ to share and apply the WORD of God.

Join the Tabernacle Missionary Baptist Church as they celebrate their 96th Church Anniversary! Dr. Lance D. Watson, of the St. Paul Baptist Church or Richmond, VA will be coming home as the preacher of the hour on November 13, 2016 at 11:00am. Pray with Tabernacle as they honor God during this season of celebration!
Join the New Hope Baptist Church (Southfield - Pastor David Roberson) as Dean, Rev. Valerie Crump offers a Certificate of Progress Program (COPP) Workshop. If you have questions on how to begin, continue, or complete your (COPP) Diploma, you don't want to miss this!